Back
Protecting against moisture damage not only requires a dependable siding product, but also smart design behind it. Whether through leaks or condensation, water infiltration is nearly impossible to avoid, so taking the steps to eliminate moisture throughout the entire building process is essential.
As all pros know, when water does accumulate, it can wreak havoc on a home's structure. Wood products, including framing elements, can degrade from excessive water exposure, insulation can soak up moisture, and rot and mold will occur.
How to Avoid Moisture Damage
It is key to have or create an airflow cavity on the back side of the siding you're installing in addition to proper flashing and weather-resistive barriers (which is designed into most polymer-style siding products like Foundry and Grayne). This stops moisture from getting trapped and causing potential issues during freeze/thaw and/or mold issues.
Here are a few steps to take to help protect the wall cavity from moisture. (Note: Always consult your local building code for the installation requirements for weather-resistive barriers, caulking, etc.)
Step 1: Properly install flashing
Flashing prevents water intrusion around any penetrations through the siding, including channels, corner posts, windows, and vents. Before installing flashing, ensure the wall surface is flat and level.
If you are working on an exterior with existing siding, the best practice is to strip away the old siding for a smooth surface—even when working with vinyl that is designed to be installed directly over wood.
When installing flashing around a window, follow these steps to prevent water leakage:
1. Apply flashing on the underside of the window first.
2. Follow this application with flashing on the sides of the window. Make sure to overlap the bottom flashing.
3. Finally, apply the flashing at the top of the window.
It is crucial that flashing extends past the nailing flanges of any accessory to prevent water infiltration through the opening. The flashing should be long enough to direct water over the nail flange of the last course of siding. This installation method can also be used for applying flashing to other openings, such as electrical outlets and doors.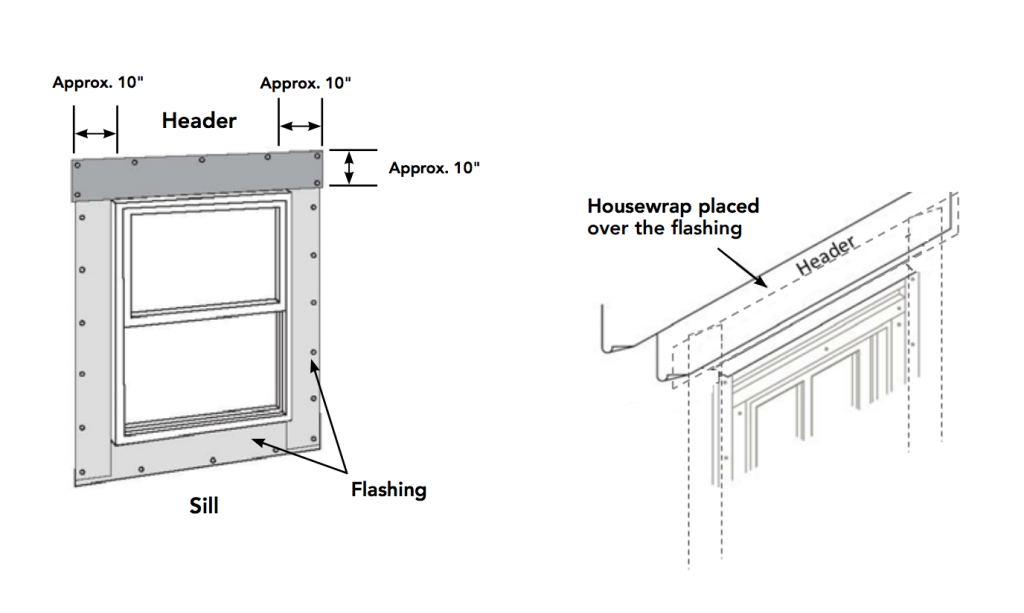 Step 2: Install a weather-resistive barrier
After properly installing flashing, you should next apply a weather-resistive barrier (WRB). Installed between the sheathing and siding, a WRB blocks any water that penetrates the siding and helps it drain away from moisture-sensitive materials like wood structural sheathing and studs.
Not only do WRBs drain water away from the building, they also allow wall assemblies to dry out naturally. Because standard vinyl siding hangs loosely on the sheathing, air is able to flow behind it, creating a drainage gap and method for drying.
To properly install the weather-resistive barrier for maximum protection, the material should be installed shingle fashion by overlapping successive layers behind the exterior finish and over the structural sheathing. Installers should begin installation from the bottom up.
Each overlap should be several inches long. If heavy winds and rain are common in your region, overlap approximately 6 inches at horizontal joints and 8 to 12 inches at vertical joints.
Step 3: Caulk siding correctly
Many professionals rely on caulking to fix mistakes and speed installation time, but caulking can break down over time and eventually even hold water in rather than aid in keeping it out.
To ensure the caulking aids in moisture protection, avoid these three common mistakes:
1. Caulking the top cladding board to trim boards. This traps humidity in the walls.
2. Relying on caulking to fill in gaps. Cut siding to the precise measurements necessary to avoid gaps.
3. Caulking underneath the bottom flange when installing windows. Caulk here will trap moisture inside.
Have more questions about how to properly install Grayne and Foundry siding? View Grayne product resources and Foundry product resources for installation guides, FAQ, and more.
The post 3 Steps to Protecting the Wall Cavity Against Moisture Intrusion appeared first on Boral Master Blog.