LBM Dealer Surveys Show Continued Strength Amid Economic Concerns
Each year, the LBM 100 from LBM Journal and the Construction Supply 150 from Webb Analytics dealer surveys provide a snapshot of the state of the lumber and building materials industry and, by default, a temperature reading on the rest of the residential construction industry. And this year's lists, both released this month, are no exception.

"The year began with dealers enjoying the last giant swells in lumber prices that had led to unprecedented reve­nue increases in 2021," reported Craig Webb of Webb Analytics. "By the end of 2022, those prices were down more than 60% from where they were at the start. Meanwhile, consumers' pain over price increases and a Federal Reserve clampdown helped force a slowdown in the economy. Nevertheless, demand from builders and remodelers remained robust and product shortages still were rampant, particularly early in the year. The result was unsettled conditions."

Webb's Construction Supply 150 found the result to be a 9.5% increase in revenue for the list overall, as well as growth in the total number of locations and number of employees. However, the revenue increase was only 3.3% when adjusted for inflation.

"Now in its third year, the LBM 100 continues to demonstrate the strength of the lumber and building materials industry while fighting new challenges such as skyrocketing interest rates, rising inflation and fuel costs, labor shortages, and foreboding talk of recession," LBM Journal's James Anderson said of his publication's rankings. "If that list of challenges faced any other industry, it is unlikely that we could see 94 of this year's top 100 dealers reporting increases in sales in 2022."

In fact, LBM Journal reports that nearly all of the dealers with higher sales last year saw increases in the double digits. Nine companies had sales over a billion dollars, including one that reached the threshold for the first time. (The Webb Analytics Construction Supply 150 tracks both traditional LBM dealers as well as big box stores and specialty distributors, so its ranking includes 25 members with more than a billion in sales.)

As in previous years dealer surveys, some of that growth came from continued acquisitions.

Lumber prices continued to play a role, but to the opposite effect as last year: "The impact of lumber price changes shows up most prominently when you look at one of the CS150's five subcategories, lumberyards with manufacturing capabilities," Webb said. "In 2021, this group's revenues shot up 58.6%. In 2022, the gain was only 18.1%. And a good share of that increase came not from same-store sales growth, but rather from many of the 481 construction supply operations acquired and 253 locations opened by the CS150 in 2022."

Even with the challenges, nearly half of the LBM 100 plan to expand over the next one to two years. In addition, LBM Journal said, "Many dealers have indicated that 2023 will be a year of growth, despite higher interest rates and lingering supply chain challenges."

Other trends of note:

• The pandemic's influence on e-commerce continued, as LBM Journal found that 40% of dealers are now offering online sales, up from 30.5% in 2021.

• Hiring is still dealers' No. 1 challenge, LBM Journal said, though there was a notable drop from the previous year, from 84% of respondents to 68%. As with last year, drivers continue to be the hardest role to fill, followed by yard workers. Still, the threat of recession has actually helped some dealers with this issue, opting to reduce staff by eliminating open positions or hiring good employees who are leaving less-stable companies.

• Credit card fees are another growing challenge for dealers. With fees upwards of $180 million among the companies he surveyed, Webb found that dealers are pushing to limit the use of credit cards for bill paying.

View the full dealer surveys, view the LBM Journal 100 here and download the Construction Supply 150 here.

Inspiration: 6 Approaches to Create Compelling Gable Ends 

Multi-textured facades are one of the most popular trends for residential exteriors, and gable ends are an easy way to add differentiation and styling.

Foundry™ Specialty Siding and Portsmouth™ Shake & Shingles offer the warm look, deep textures, and rich colors of cedar in a range of authentic shake and shingle profiles—ideal for accents or the full façade. In addition, both are available in a single-course 7" to minimize waste in a gable application.

Consider these approaches to using shakes and shingles for more eye-catching gable ends:
• Two-tone colors: Incorporate gable siding in a color one or two shades removed from the rest of the façade. The siding profile can be the same or different than the main cladding. Shown here are Portsmouth D7 Cedar Shingles in Oceanside and Indigo, as well as Exterior Portfolio™ Vinyl Trim in Aspen White.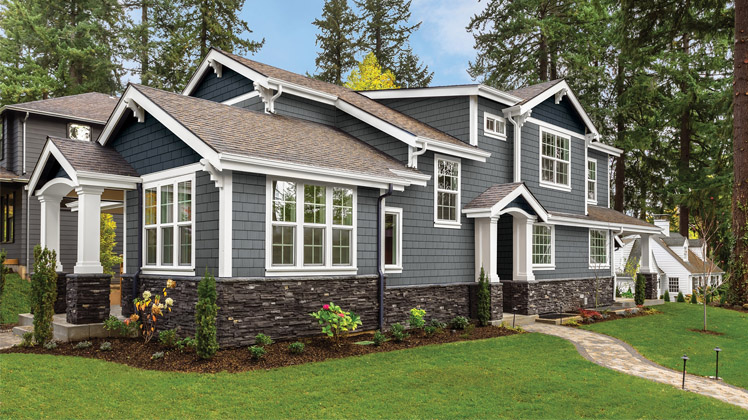 On this home, Foundry Split Shake siding in Colonial Grey in the gables combines with a slightly darker tone on the main façade.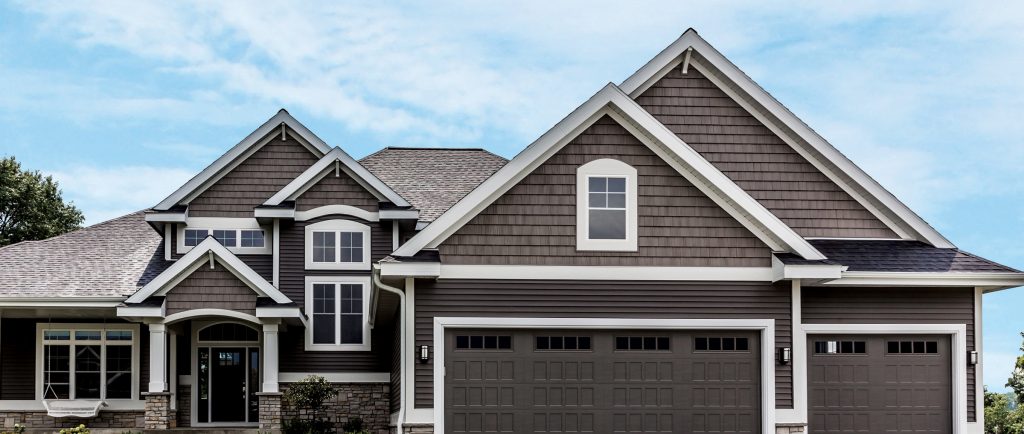 • Matching colors, unique profiles: Blending shakes and shingles in the gables with lap siding or other profiles on the main façade offers a subtle yet eye-catching look. This home achieves this with Foundry 7" Split Shake in Blueberry 253.
• Contrasting colors: Adding a bold color to the gable can provide a more dramatic pop of color without a huge commitment on the full façade. When choosing, select accent colors that work well with the main siding. As explained on Color Matters, "color harmony" can be achieved by using a color wheel and choosing analogous colors (three colors side by side on the wheel) or complementary colors (directly opposite each other on the wheel).
Shown here are Portsmouth D5 Cedar Shingles in Greystone above D5 Cedar Shingles in Driftwood.
This home features Foundry 10" Staggered Shake in Russet over a tan facade.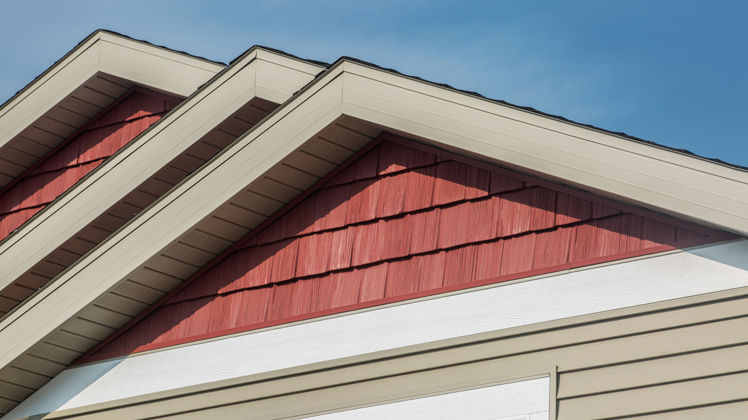 • Board and batten: For an on-trend style combination that adds a touch of distinction, incorporate board-and-batten into the gable. This Craftsman stands out and veers slightly modern with two small Portsmouth Board and Batten accents in Sand, above D7 Cedar Shingles in Storm for the main façade.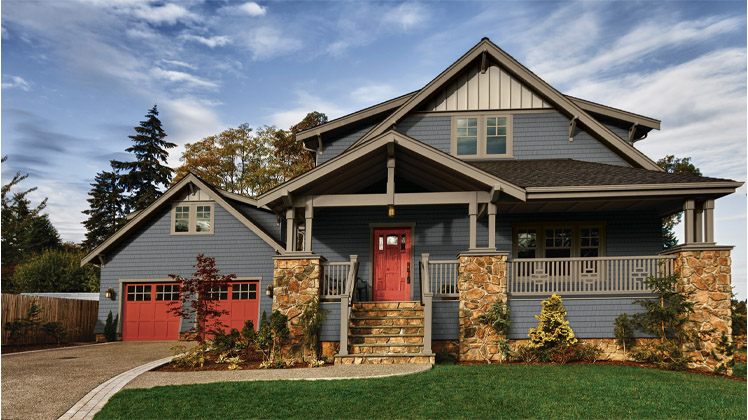 • Specialty shapes: For traditional homes, specialty shapes like Portsmouth Half Rounds (shown here in Cypress) add a touch of flair in keeping with the familiar style.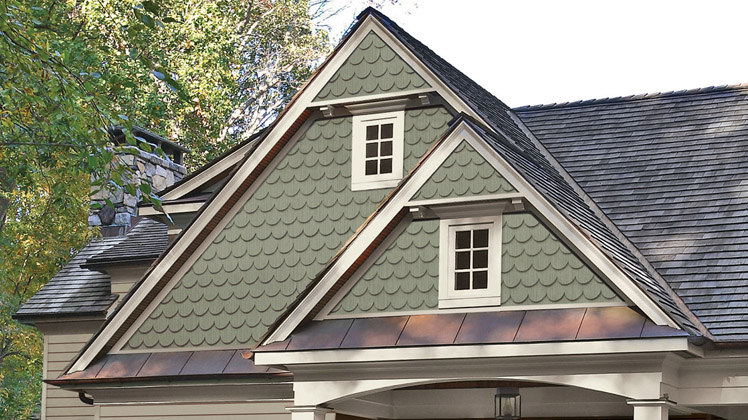 • Gable vents: Easy-to-install gable vents are the perfect decorative element for gables, and come in simple shapes or designer options. Choose from a coordinating color or a bolder accent. Shown here is a Mid-America™ half-round gable vent.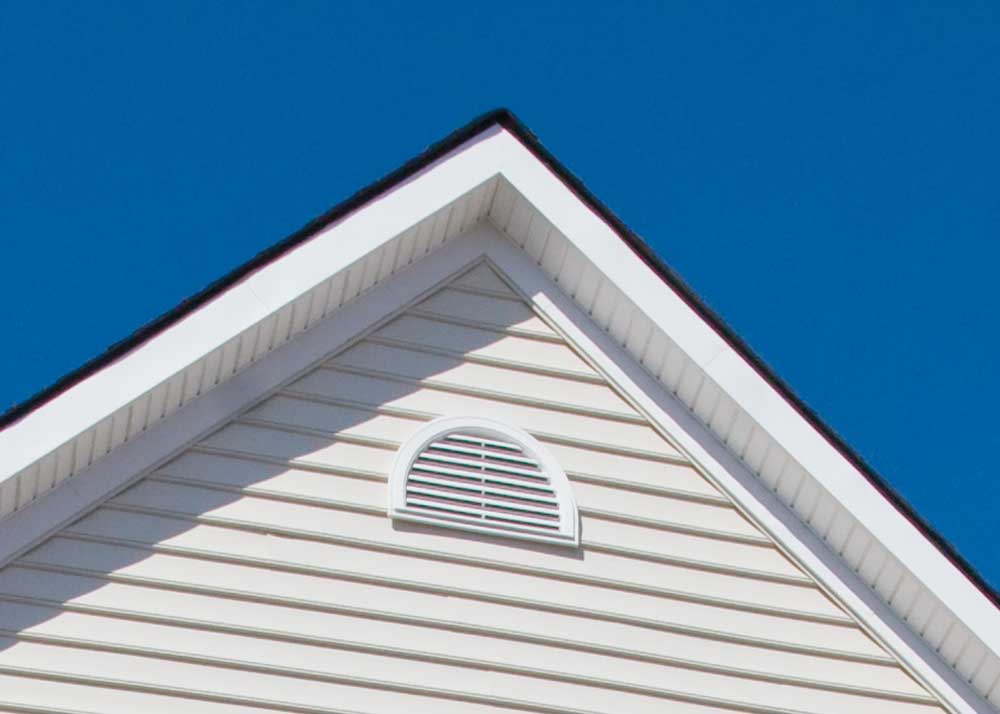 For even more gable inspiration, visit Idea Galleries from Foundry Specialty Siding and Portsmouth Shake & Shingles.

Find Helpful Tools and Resources During National Home Remodeling Month
May marks National Home Remodeling Month, the NAHB's annual celebration of the remodeling industry and remodeling professionals. Westlake Royal Building Products™ has signed on as the title sponsor of the event for the second consecutive year. 

During National Home Remodeling Month, remodelers are encouraged to leverage customizable marketing tools, content, and tips to help promote the industry and local expertise. Available materials include sample social media posts, web banner graphics, press releases, fact sheets, and more. For local councils and members, NAHB offers government proclamations, articles and op-eds, fact sheets, and a how-to kit.

To get started, access a start-up guide, tips and strategies, and the array of downloadable content on NAHB's National Remodeling Month landing page.

"Westlake Royal is thrilled to sponsor this initiative again this year. Remodeling offers numerous benefits to homeowners who want to change their living environment without uprooting their family and moving. Home improvements can add more space for a growing family or older parent, improve energy efficiency and increase the resale value of your home," said Steve Booz, vice president, marketing & product management at Westlake Royal Building Products. "We are excited to join in supporting NAHB's members, who are committed to quality construction and integrity, professionalism, and their customers." 

As part of the sponsorship, Westlake Royal Building Products will host several events for NAHB members during the month of May, including a Shop Talk on May 11 featuring Chuck Chura, senior product manager for Westlake Royal Building Products, who will discuss using panelized stone to drive building efficiencies. 

To learn more about NAHB Remodeling Month and register for upcoming events, visit nahb.org/remodelingmonth.

Resources for Selling and Installing Siding & Trim
Westlake Royal Building Products' portfolio of siding and trim comprises more than 30 individual brands, ensuring you and your customers can find the right product for each project, application, style, and budget. To support you behind the scenes, Westlake Royal offers numerous professional tools and resources that can help you select the perfect material, choose the ideal color, and ensure proper installation for long-lasting looks and performance.
Along with our in-house customer service team and in-field sales representatives, be sure to take advantage of our extensive array of resources to help sell, select, and install siding and trim from Westlake Royal Building Products.
Selling Resources
Samples: We offer samples for nearly all of our siding products and many trim products. How to get: Visit individual project pages (start here) and click on "Request a Sample."
Sample boards/folders/brochures: When meeting with clients in your office, in their home, or on the jobsite, our portable sample boards can help compare different materials and illustrate the aesthetic and performance benefits of each. Leave-behind brochures outline product benefits and color options. How to get: Contact your local sales rep.
Fan decks: Help your customers visualize and select siding options with fan decks featuring siding color and grain options from several Westlake siding brands, including Exterior Portfolio® and Royal®. Vinyl samples are cut from actual siding, providing a true physical representation. How to get: Contact your local sales rep.
Product knowledge sessions: In-depth knowledge of the products you sell and install is your best marketing tool. Westlake representatives and dealers are available to provide an in-depth look at your siding and trim options so you can sell with confidence. How to get: Contact your local sales rep or Westlake dealer to schedule.
Sell sheets: Download and print hard-hitting one pagers outlining products and topic areas in detail. How to get: Visit individual project pages (start here) and click on "Resources."
Consultative training sessions: Our in-house sales experts can provide in-person sales training and tips to help you sell more effectively and efficiently. How to get: Contact your local sales rep to inquire.
Design Resources
Color & design guides: To help customers truly discover what color can do for their home, explore Westlake Royal Building Products' range of design guides, including:
–Color Explorer: Choose color families and find products that match and coordinate. Click here to access.
–Color Combinations: Start with a base color and mix-and-match coordinating accent colors. Click to access Royal Color Combinations, Exterior Portfolio Color Combinations, and Celect Color Combinations.
Design galleries: See completed projects via our product-specific inspiration galleries. How to get: Visit individual project pages (start here) and click on "Gallery" or "Inspiration."
Immersive Experience: This online, 3D interactive program showcases exterior products from Westlake Royal Building Products™ siding and trim brands as well as Westlake Royal Stone Solutions™ and Westlake Royal Roofing Solutions™ on three distinct homes. Tour the homes, explore the material options, and experiment with profiles and colors. Click here to access.
Installation Resources
In-person or virtual training: On the jobsite, at the lumberyard, or over the phone, our sales team can provide installation training and best practices to help you avoid callbacks and improve performance and efficiency. How to get: Contact your local sales rep.
First nail program: Schedule a short jobsite training with our installation experts for Celect® Cellular Composite Siding, Versetta Stone®, TruExterior® Siding & Trim, and Zuri® Premium Decking. How to get: Contact your local sales rep.
Installation instructions: Download and print installation instructions for all Westlake Royal Building Products' siding and trim via the web. How to get: Visit individual project pages (start here) and click on "Resources."
Code reports: Downloadable and printable. How to get: Visit individual project pages (start here) and click on "Resources."
Specifications and drawings: How to get: Visit individual project pages (start here) and click on "Resources."
Education & More
CEU courses: Expand your exterior product knowledge and earn credits with free online courses. How to get: Visit AEC Daily and search "Westlake."
Westlake Royal PROS Perks: Earns rewards for the products you buy! Enroll in this points-based program to start earning merchant gift cards and Visa® Reward Cards as a thank-you for purchasing products within a robust selection of 13 Westlake Royal Building Products siding and trim brands. Click here to register.
And of course, you can reach out to us at any time. Connect with your local rep or contact Westlake Royal Building Products here.

Exterior Remodeling Projects Deliver Greatest Return on Investment, Study Says
Before embarking on a remodeling project, whether large or small, most homeowners ponder not just their design preferences and lifestyle needs, but whether the renovation will add value to their home. Today's Homeowner with Danny Lipford sought to bring clarity to the question with a recent study that looked into the return on investment of common remodeling projects. The data show that, resoundingly, exterior remodeling and renovation projects deliver the largest return, with garage doors leading the way.
Industry experts continue to tout the strength of the remodeling market, as homeowners elect to renovate their existing houses rather than navigate high interest rates and low inventory for new homes. "With Americans spending more time at home than ever, the total amount spent on renovations and upgrades soared by nearly 27% between 2020 and 2022," Today's Homeowner said.
But with material and labor costs also high, understanding which projects provide the most value is more important than ever.
The study examined data from 70,000 homes in more than 1,200 markets, analyzing the cost versus value recouped for 34 different project types. Today's Homeowner found that the average return for all projects is 69%. But the average cost recovered for exterior remodeling projects is 23% higher than interior projects; in fact, the top 10 projects reaping the best ROI were on the exterior.
"Curb appeal really matters when selling your home," Realtor Suzanne Coddington, of Dickens Mitchener, told Today's Homeowner. "It's difficult to get buyers to see a home that has little or no curb appeal." 
Garage door replacement was the only project category to reap a full 100% return on investment, followed by wood window replacement (95.5% cost recovery), screened-in porch addition (92.9%), fiber cement replacement (92.7%), and vinyl siding replacement (91.0%) and vinyl window replacement (91.0%).
"When considering new siding, look for high-quality, low-maintenance materials," Steve Booz, Vice President of Marketing & Product Management for Westlake Royal Building Products, advised the Today's Homeowner audience. "Some products offer insulation or locking seams for increased energy efficiency. And don't be afraid to play with color, texture, different profiles, and contrasting trim — siding can be beautiful as well as functional."
The remaining projects in the top 10 comprised an in-ground pool (90.1%), composite deck addition (86.9%), concrete backyard patio (86.4%), and wood deck addition (80.1%).
To view the full study results and expert commentary, click here.
Looking to elevate your exteriors with high-ROI materials? Browse Westlake Royal Building Products' extensive selection of vinyl siding and accessories.